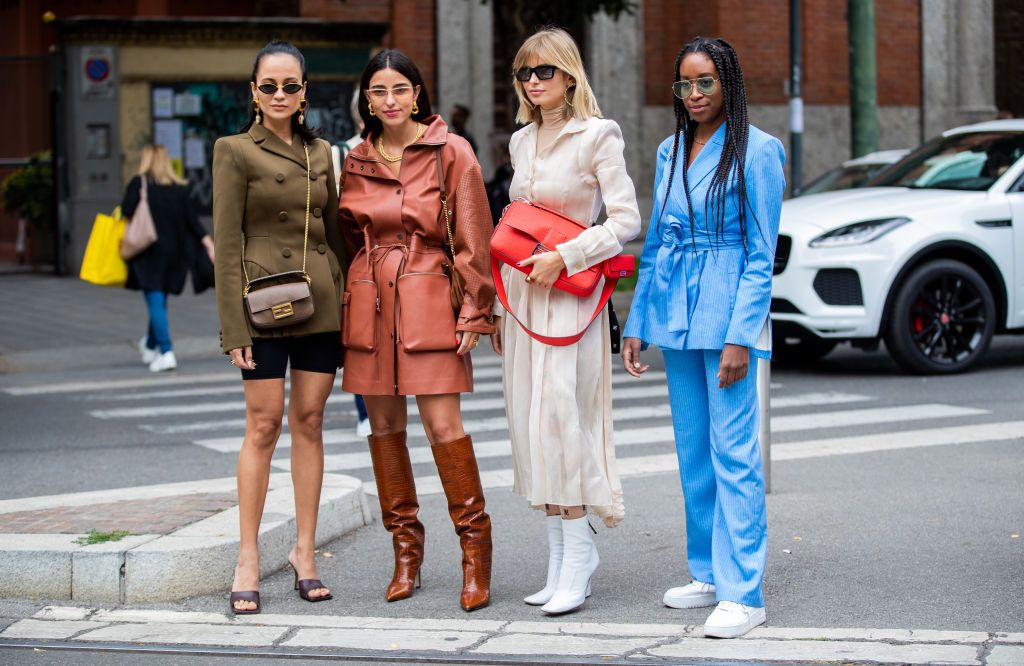 Social Media Influencers and Identity Formation
How individuals identify themselves and choose to identify themselves in online communities and networks have been largely impacted by the identity cues they pick up from influencers. Influencers on social media convey certain ideas, lifestyles and behaviours which advocate and inspire certain ideas and influences individuals to portray similar behaviours. Social media allows individuals to seek out appropriate communities, networks and groups where they feel a sense of belonging and is a 'safe space' for them to be themselves without any judgement. This study believes that the luxury fashion community has been found to be huge within young adolescents and has opened their eyes to a world that seems desirable but still reachable.
McAdams and McLean (2013) describe an identity as 'a person's internalized and evolving life story, integrating the reconstructed past and imagined future to provide life with some degree and purpose' (Heshmat, 2014). An individual's identity is formed indirectly from their parents, peers and role models. Psychologists presume that the process of identity formation is a matter of 'finding oneself' by matching their talents and potentials with social roles (Seibel, 2019). Thanks to social media networks like Instagram, an individual is able to communicate through appearance by allowing them to curate their own self-image and construct their own personal identity through the photos and videos they take and post on their account. Furthermore, individuals can browse online communities on this platform that they feel are inspiring and relatable, and also connect with influencers within these communities to admire and aspire to – especially within the luxury fashion community. Therefore, luxury fashion influencers on Instagram play a key role in advocatingcertain ideas, lifestyles, or behaviors which then influences how individuals build their own personal identities.
Leaver (2015) suggests that, 'social media is most often researched in terms of the way individuals use the tools and platforms, or the way those individuals form groups of various types'. These groups that individuals form are now integral as this is the way that a majority of people interact with each other. These groups represent different communities and appear on a variety of different platforms where users are able to choose which platform and which groups appeal the most to them (Glezakos & Lazakidou, 2012). The organisational design of these communities embodies both aspects of what the community stands for, which are: social dimension (a community of people) and technology dimension (the interaction that happens online). An individual must look at these two dimensions and decide if they feel a sense of belonging and acceptance within this community. Tsai and Kilduff suggest 'the type of network and community we form around ourselves affect everything from our health, to our career success, to our very own identities' (Cronk, 2020). American philosopher, George Herbert Mead summarized this perspective in 1934, stating that 'the individual only becomes a self 'in so far as he can take the attitude of another and act toward himself as others act'.
(Bates, Hobman & Bell, 2019) Adolescence is a huge developmental period for an individual to form their own identity and social media has become prominent with all aspects of an adolescence's daily life. Social networks have a deep impact on society as a whole due to the fact that they act as a 'safe space' for identity expression, exploration and experimentation (Gunduz, 2017). Within these 'safe spaces' individuals have access to communities and other individuals that they can either relate to or see as an inspiration. Individuals you may find within these communities and networks are called influencers. (Jin, Ryu, 2021) Influencers are popular users who have established a number of followers by being active or known within an online community which make them credible and appealing to their followers. Influencers generally appear on social media platforms such as Instagram, Twitter, YouTube and Facebook. Abidin (2021) describes an influencer persuading an individual as 'sentiment seeding'. 'Sentiment seeding insidiously warms up and softens public reception to specific ideas, to shape and guide their slow, subtle but stealthy acceptance to them'.
For an influencer to have sentiment seeding, effect and sway over individuals they must always remain authentic. Influencers must remain authentic to have power within their own online community. (Dekkers, 2019) Having power within an online community involves process, dedication and hard work. Each post or interaction must match previous posts and interactions in terms of personality, identity and authenticity. This helps the individual trust the influencer that they aspire to. The social media platform, Instagram has been the most influential for identity building for an individual as it easily allows users access to connect and follow influencers within their desired online community (May, 2018). Particularly, the luxury fashion online community has grown and flourished on Instagram as it is made up of a majority of millennials (Moatti & Abecassis, 2018). Instagram uses visual content for users to communicate with each other, therefore it is well suited to luxury fashion brands who have essential visual and community dimensions: purchases from these brands are linked to feeling like a part of a specific community and through imitation of leaders in these communities (influencers).
The luxury fashion community on Instagram contains not only fashion but includes everything from seven-star hotels to luxury cars. This community is the goal for those who enjoy the finer things in life (Stratify, 2020). The first and most powerful kind of user in this community includes brand accounts as they are able to promote their products and show users a glimpse into the brand's world. For example, French luxury fashion house Chanel open their world to their followers by sharing pictures and videos of their new fragrance launch party or backstage at one of their fashion shows (Moatti, & Abecassis, 2018). This lets individuals feel like they are part of the brand's community. The second kind of user within the luxury fashion community are influencers and celebrities. Whether it be a paid post or a generic post, an individual has the ability to view this and relate or become inspired. The third kind of user within the community are defined as 'followers', 'an audience' or 'the rest of us' – those who unknowingly identify themselves within the luxury fashion community are heavily impacted by the identity cues they pick up from influencers (Cranston, 2019).
Picking up these identity cues from influencers, the individual then constructs and alters the way they are viewed online and offline. They want to show the world they are part of this community whether it be buying the same Prada handbag or Burberry coat as an influencer or even choosing a more luxurious brand of body wash at the supermarket. This is where the concept of 'performing the self' comes into play. (Dijck, 2013) Mark Zuckerberg once quoted, 'You have one identity. The days of you having a different image for your work friends or co-workers and for the other people you know are probably coming to an end pretty quickly.… Having two identities for yourself is an example of a lack of integrity'. When examining this quote further, it is discovered that an individual may want to fit into a certain community that they see on social media and television but are stuck in their own ways and habits that are preventing them from entering into their desired community. When an individual becomes an adolescent they have the opportunity to pick up identity hues from other individuals they get inspiration from. Imagine this – a girl from a small country town joins Instagram. She follows her friends from school on this platform but also stumbles across a luxury fashion influencer. The girl notices the influencer isn't a 'famous' person and seems just like an average person like her. She notices type of lifestyle the influencer portrays online and is mesmerized. She has only seen celebrities wear these types of designer items and live in these cities. The girl is then inspired to move to a big city after high school and work hard to afford and be able to enjoy the finer things in life just like the influencer. This fictitious tale may seem abrupt, but when adolescences begin to search for a sense of self and identity, inspiration is drawn from any form of media that is in front of them – in this case it's Instagram. Instagram helps young people 'think about the person they want to be' as they are exposed to a variety of communities and networks (Cranston, 2019).
An individual forming their identity around 'thinking about the person they want to be' falls into the liberal model of identity. This model is based on a liberal perspective where liberty and freedom is the basic political value. It believes people are of equal moral worth and individuals are so valuable to the point that they have rights that can be asserted against a government (Hawkins, 2019). It also believes individuals have the agency to form their own identity based on their aspirations and desires. They are also autonomous and make sense of meaning and agency. Since society as a whole is composed of individuals, each individual is unique and stable, and everyone has their own distinctive and sole identity. This liberal model of identity is relevant and true to today's society where each individual is an essential and reasonable being, unlike a post-Marxist perspective where an individual's identity is formed through state power and pulled into ideological systems.
With social media being the most researched in terms of the way individuals use tools and platforms and the way those individuals form groups are more relevant now than ever as it has become a major factor in the way individuals form their own identity. Individuals can easily find cues to form their identity by finding appropriate communities and networks where they feel a sense of belonging and acceptance. This process falls in line with the liberal model of identity where individuals have the agency to form their own identities based on desires and aspirations. Within these communities you discover Individuals that are called influencers. Influencers hold some kind of power within an online community – particularly the luxury fashion community. With this power, influencers teach their audience what to wear, how to style themselves, where to travel and live, which then adds to the formation of the individual's identity. In some cases, which could be further studied, influencers can contribute to potentially harmful outcomes like feeling envious and left out instead of contributing to more positive outcomes like inspiration and self-expression. Being part of these communities help young people 'think about the person they want to be' as they are exposed to these influencers that live the life they desire. This then results in individuals wanting to show the world they are part of the community by changing their lifestyle, behaviours, actions and buying habits to emulate their own identity and showcase who they want to be.
References
Abidin, C. (2021). From 'Networked Publics' to 'Refracted Publics': A Companion Framework for Researching 'Below the Radar' Studies. The Journal of Social Media and Society, 7(1). https://journals.sagepub.com/doi/full/10.1177/2056305120984458
Bates, A., Hobman, T. & Bell, B. (2019) 'Let Me Do What I Please with It… Don't Decide My Identity for Me': LGBTQ+ Youth Experiences of Social Media in Narrative Identity Development. Journal of Adolescent Research, 35(1), 51-83. https://journals-sagepub-com.dbgw.lis.curtin.edu.au/doi/10.1177/0743558419884700
Cronk, G. (2020). George Herbert Mead (1863-1931). Internet Encyclopedia of Philosophy. https://iep.utm.edu/mead/
Dekkers, R. (2019). Influencers and identity. Who do you want to be? Diggit Magazine. https://www.diggitmagazine.com/articles/influencer-identity
Dijck, J. (2013). 'You have one identity': performing the self on Facebook and LinkedIn. The Journal of Media, Culture and Society 35(2), 199-215.
Glezakos, N. & Lazakidou, A. (2012). Organisational Design of Online Communities. Springer Link. https://link-springer-com.dbgw.lis.curtin.edu.au/content/pdf/10.1007%2F978-1-4614-3634-8_4.pdf
Jin, S., Ryu, E. & Aziz, M. (2021). I trust what she's #endorsing on Instagram: moderating effects of parasocial interaction and social presence in fashion influencer marketing. The Journal of Fashion Marketing and Management. https://www-emerald-com.dbgw.lis.curtin.edu.au/insight/content/doi/10.1108/JFMM-04-2020-0059/full/html

Kilduff, M. & Tsai, W. (2003). Social Networks and Organisations. Sage Publications. http://methods.sagepub.com.dbgw.lis.curtin.edu.au/book/social-networks-and-organizations/n1.xml
Langer, S. Hennings, N. & Wiedmann, K. (2013). Social persuasion: targeting social identities through social influencers. The Journal of Consumer Marketing, 30(1), 31-49. https://search-proquest-com.dbgw.lis.curtin.edu.au/docview/1282211785?pq-origsite=primo
Leaver, T. (2015). Researching the Ends of Identity: Birth and Death on Social Media. The Journal of Social Media and Society, 1(1). https://journals-sagepub-com.dbgw.lis.curtin.edu.au/doi/10.1177/2056305115578877
Lidstrom, E. (2019). What is Liberalism in simple terms?. [Online Forum Post] Quora. https://www.quora.com/What-is-liberalism-in-simple-terms
May, V. (2018). Identity as a performance: How identities are formed within the fashion community on Instagram. Debating Communities and Networks Conference. https://networkconference.netstudies.org/2018Bentley/2018/05/07/identity-as-a-performance-how-identities-are-formed-within-the-fashion-community-on-instagram/
Seibel, B. (2019). Insta-Identity: The Construction of Identity through Instagram an Extended Literature Review. University Honors Thesis. Paper 747. https://pdxscholar.library.pdx.edu/cgi/viewcontent.cgi?article=1841&context=honorstheses
Shahram, H. (2014). Basics of Identity. Psychology Today. https://www.psychologytoday.com/au/blog/science-choice/201412/basics-identity
Stratify. (2020). Undergo Luxury in Instagram. Stratify. https://stratifydigital.com/how-instagram-is-targeting-the-luxury-customers/
Ugur, G. (2017). The Effect of Social Media on Identity Construction. The Mediterranean Journal of Social Sciences, 8(5), 85-92. https://ideas.repec.org/a/vrs/mjsosc/v8y2017i5p85-92n8.html
Williamson, W. (2016). Using Social Network Analysis to Visualize the Social Media Networks of Community Groups: Two Case Studies from Sydney. The Journal of Urban Technology, 23(3). https://www-tandfonline-com.dbgw.lis.curtin.edu.au/doi/full/10.1080/10630732.2016.1197490